Tooltips
•Neutral (fights back when attacked)
•Medium herbivore
•Slow
Stats
•20 HP
•3 melee damage
•1 weapon range
•1 skull
•Slow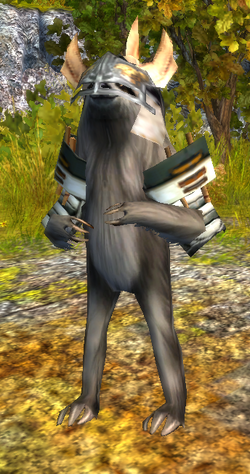 The ground sloth or sloth is an unused neutral wild animal found in the Boosterpack's files. It may have been intended as an easter egg like the Ninja Monkey, although it has a tooltip which treats it as a regular animal. It is one of the weakest animals in the game. If it is generated in the Mapeditor, it is shown wearing a samurai helmet and armour until it is placed down.
It may have been intended as a Northlands or Icewastes animal (which is where the other prehistoric mammals are from), or perhaps an easter egg in A Cold Day in Hell, although its samurai helmet suggests an association with the Dragon Clan. The Pirates were present in the afformentioned mission, so it may have been associated with them.
Community content is available under
CC-BY-SA
unless otherwise noted.